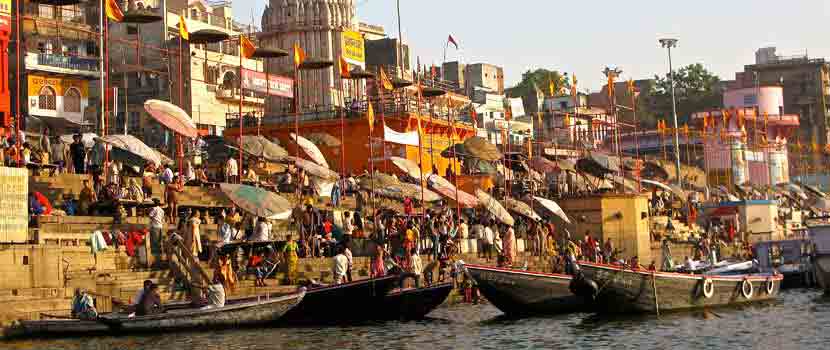 Varanasi
Varanasi, also known as Banaras, or Kashi, situated on the banks of the Ganges in Uttar Pradesh, India. Varanasi is one of the oldest continuously inhabited cities in the world. The spiritual capital of India, it is the holiest of the seven sacred cities (Sapta Puri) in Hinduism and Jainism, and played an important role in the development of Buddhism.
Varanasi grew as an important industrial centre, famous for its muslin and silk fabrics, perfumes, ivory works, and sculpture. Buddha is believed to have founded Buddhism here around 528 BC when he gave his first sermon, "The Setting in Motion of the Wheel of Dharma", at nearby Sarnath.
Varanasi has been a cultural centre of North India for several thousand years, and is closely associated with the Ganges. Hindus believe that death in the city will bring salvation, making it a major centre for pilgrimage. The city is known worldwide for its many ghats, embankments made in steps of stone slabs along the river bank where pilgrims perform ritual ablutions.
Places of Interests :
River Front (Ghats) : The spectacular 4 km sweep of the Ghats is unique sight, best viewed at dawn, in that "soft first light" when the river and Ghats have a timeless appeal. Life is almost panoramic detail unfolds here from dawn to dusk as a steady stream of devotees-swelling to thousands on auspicious days –perform rituals by the Ganga.
Kashi Vishwanath Temple : Also known as the Golden Temple, it is dedicated to Lord shiva, the presiding deity of the city. Varanasi is Said to be the point at which the first jyotirlinga, the fiery pillar of light by which shiva manifested has supremacy over others gods, broke through the Earth's crust and flared towards the heavens.
Ramnagar Fort : The residential place of Kashi Naresh (Former Maharaja of Varanasi) across the Ganges at Ramnagar houses a museum with the exhibits of palanquins, costumes, swords, sabres, etc.
Tulsi Manas Temple : This modern temple is dedicated to Lord Rama. It is situated at the place Where Tulisdas, the great medieval seer, lived and wrote the epic "Shri Ramcharitmanas", which narrates the life of Lord Rama.
New Vishwanath Temple : Situated in the premises of Banaras Hindu University, a modern place of worship planned by Pandit Malviya and built by the Birlas. Open to all, irrespective of caste or creed.
Durga Temple : This temple was built in the 18th century with red stone work. A fine example of Nagara art. Godess durga is considered as the goddess of Strength and Power.
Source : https://en.wikipedia.org/wiki/Varanasi, http://varanasi.nic.in/