Same Day Taj Mahal Tour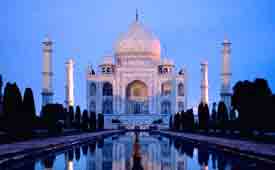 Duration : 1 Day
Destination : Delhi - Agra - Delhi (Tajmahal and Agra fort)
Drive to Agra starting 7:00 am from Delhi. Your private taxi will be driving by Indian countryside. It's takes about 3 hours to reach Agra from Delhi. After arriving at Agra you will be headed to the TajMahal. TajMahal has always been one of the seven wonders on earth. It's a mausoleum made with white marble and it's shaped like a crown. It's huge and it's surrounded by four pillars. It's popular among the people as a symbol of love.
After visiting the TajMahal, you'll be eating your lunch. There is a large variety of multi cuisine restaurants. You can try Mughlai cuisine as it's liked by everyone.
After finishing your lunch you will be headed to Agra fort. Agra fort was emperor Akbar's residence. At Agra Fort you will see different rooms, corridors,halls etc. It's made by red sandstone and it's unbreakable. It's huge and there are a lot of different gardens all around the fort.
After seeing the Agra fort you will be headed to a marble factory where you will be witnessing the process of inlaying semi-precious stones onto marble. Agra is a center for marble handicrafts.
Now you will be driving back to Delhi, but before leaving we will make a brief visit to Sikandra. This is emperor Akbar's tomb. After visiting Sikandra you will leave for Delhi. This will end your same day TajMahal tour.