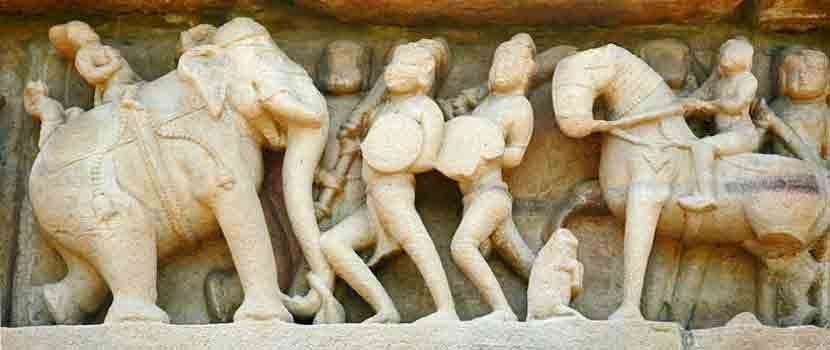 Khajuraho
The Khajuraho Group of Monuments is a group of Hindu and Jain temples in Madhya Pradesh, India. They are one of the UNESCO World Heritage Sites in India. The temples are famous for their nagara-style architectural symbolism and their erotic sculptures.
Most Khajuraho temples were built between 950 and 1050 CE by the Chandela dynasty. Historical records note that Khajuraho temple site had 85 temples by 12th century, spread over 20 square kilometers. Of these, only about 20 temples have survived, spread over 6 square kilometers. Of the various surviving temples, the Kandariya temple is decorated with a profusion of sculptures with intricate details, symbolism and expressiveness of ancient Indian art.
Places of Interests :
Lakshmana Temple : The Lakshmana Temple is a Hindu temple built by Yashovarman located in Khajuraho, India. Dedicated to Vaikuntha Vishnu - an aspect of Vishnu.It is a Sandhara Temple of the Panchayatana Variety. The entire temple complex stands on a high platform (Jagati). The structure consists of all the elements of Hindu temple architecture.
Varaha Temple : The Varaha Temple at Khajuraho enshrines a colossal monolithic image of Varaha, the boar incarnation of Lord Vishnu. This temple depicts Varaha as a purely animal form. A World Heritage Site inscribed by UNESCO in 1986 in Khajuraho.
Kandariya Mahadeva Temple : It means"the Great God of the Cave", is the largest and most ornate Hindu temple in the medieval temple group found at Khajuraho in Madhya Pradesh, India. It is considered one of the best examples of temples preserved from the medieval period in India. Shiva, in the form of a linga, is the chief deity in the temple deified in the sanctum sanctorum.
Vamana Temple : Vamana temple is a Hindu temple dedicated to Vamana, an avatar of the god Vishnu. The temple was built between assignable to circa 1050-75. It forms part of the Khajuraho Group of Monuments, a UNESCO World Heritage Site.
Chaturbhuj Temple : Yasovarman of the Chandela Dynasty built the temple at Khajuraho. The temple contains an image of Vishnu. This is the only temple in Khajuraho which lacks erotic sculptures.This temple is also known as Jatakari Temple on the name of the village
Javari Temple : The Javari Temple in Khajuraho, India, is a Hindu mandir which forms part of the Khajuraho Group of Monuments, a UNESCO World Heritage Site. It was built between c. 975 and 1100 A.D.
Source : https://en.wikipedia.org/wiki/Khajuraho_Group_of_Monuments