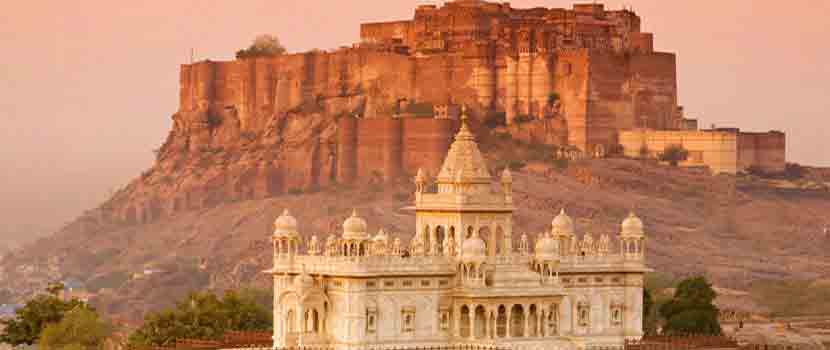 Jodhpur
Jodhpur is the second largest city in the Indian state of Rajasthan. It was formerly the seat of a princely state of the same name, the capital of the kingdom known as Marwar. Jodhpur is a popular tourist destination, featuring many palaces, forts and temples, set in the stark landscape of the Thar Desert.
The city is known as the "Sun City" for the bright, sunny weather it enjoys all the year round. It is also referred to as the "Blue City" due to the vivid blue-painted houses around the Mehrangarh Fort. The old city circles the fort and is bounded by a wall with several gates. However, the city has expanded greatly outside the wall over the past several decades. Jodhpur lies near the geographic centre of Rajasthan state, which makes it a convenient base for travel in a region much frequented by tourists.
Places of Interests :
Mehrangarh Fort : It is located in Jodhpur, Rajasthan, is one of the largest forts in India. Built around 1460 by Rao Jodha, the fort is situated 120 metres (400 ft) above the city and is enclosed by imposing thick walls.
Jaswant Thada : The Jaswant Thada is a cenotaph located in Jodhpur, in the Indian state of Rajasthan. It was built by Maharaja Sardar Singh of Jodhpur State in 1899 in memory of his father, Maharaja Jaswant Singh II, and serves as the burial ground for the rulers of Marwar.
Umaid Bhawan Palace : Umaid Bhawan Palace, located at Jodhpur in Rajasthan, India, is one of the world's largest private residences. A part of the palace is managed by Taj Hotels.
Ghanta Ghar : Ghanta Ghar also known as the clock tower of Rajasthan was constructed by the Late Shri Sardar Singh Ji of Jodhpur. Beside the tower, there in the Sadar Market that is frequented by tourists on shopping spree.
Source : https://en.wikipedia.org/wiki/Jodhpur