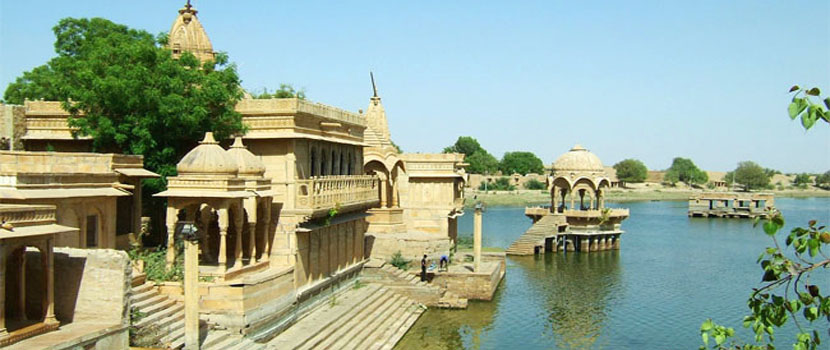 Jaisalmer
The History of Jaisalmer has a charm of its own. Like all other cities of Rajasthan, Jaisalmer too has its own glorious past to boast about. History of Jaisalmer draws heavily from the history of the Rajputana. The city is said to be founded by one Raja Rawal Jaisal, a Bhatti Rajput ruler, in approximately 1156 A D.
In the year 1947, royals signed the agreement to remain in just independent India. Since then it has developed itself into a major tourist destination as well as a cultural hub of the western India.
Places of Interests :
Amar Sagar Lake : Amar Sagar is a small and beautiful lake cum Oasis and is adjacent to a 17th Century palace called the Amar Singh Palace. Maharawal Akhai Singh built this palace in honor of one of his predecessors Amar Singh.
Bada Bagh Jaisalmer : Bada Bagh, which literally means 'Big Garden', is located on the Ramgarh road. The site has three different things to watch, a garden, a tank and a dam. In the vicinity itself you will find Govardhan Stambh (pillar).
Khuri Sand Dunes : Khuri sand dunes are slowly picking up in the must visit charts of tourists. It is a peaceful place with houses of mud and straw decorated like the patterns of Persian carpets. The Khuri sand dunes offer you a memorable experience in the land of the Rajputs. Enjoy the ride on camel back and let the place itself take you to its mesmerizing heights.
Sam Sand Dunes : There is no point coming to the Thar Desert if you don't go for the Desert Safari. That is why Sam sand dunes are becoming the major attraction in Jaisalmer. This is the closest place from where you can loose yourself in 'the Great Thar Desert'. Sam has a truly magnificent stretch of sweeping dunes, with sparse or no vegetation.
Source : http://www.jaisalmer.org.uk/