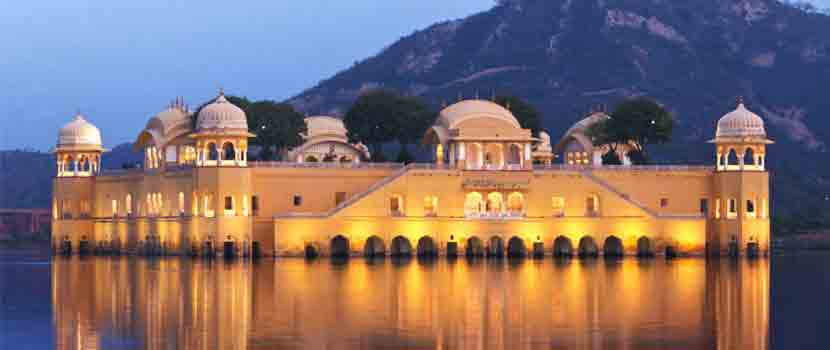 Jaipur
Jaipur, also known as 'Pink City', is the capital of Rajasthan. It was founded by Maharaja Jai Singh II in 1727 AD. Jaipur is famous for its rich cultural heritage and has today become the most popular tourist destination in India.
Here, one gets to see the architectural marvel of ancient forts and monuments that stand tall even to this day. The city has acquired the name, Pink City, because of the extensive use of pink color on the walls during the visit of Prince Wales. Jaipur today attracts a huge number of tourists from all over the world.
The city is garlanded by the presence of number of beautiful monuments that echo the splendid history of the city. Magnificent monuments such as Jaigarh Fort, Amer Fort, City Palace, Nahargarh Fort, Gaitore, Hawa Mahal, Jantar Mantar, Jal Mahal, Rambagh Palace and Statue Circle etc. are spectacular sights which attract hordes of tourists every year.
Places of Tourist Interests:
Amer Fort : The Amer Fort is situated in Amer, which is 11 kilometers from Jaipur. Amer, originally, was the capital of the state before Jaipur. It is an old fort, built in 1592 by Raja Man Singh. This fort is also very popularly known as the Amer Palace. The Amer Fort was built in red sandstone and marble and the Maotha Lake adds a certain charm to the entire Fort.
City Palace : Located in the heart of the Pink City Jaipur, the City Palace was where the Maharaja reigned from. This palace also includes the famous 'Chandra Mahal' and 'Mubarak Mahal', and other buildings which form a part of the palace complex.
Hawa Mahal : The renowned 'Palace Of The Winds', or Hawa Mahal, is one of the prominent tourist attractions in Jaipur city. Located in the heart of Jaipur, this beautiful five-storey palace was constructed in 1799 by Maharaja Sawai Pratap Singh who belonged to Kachhwaha Rajput dynasty.
Jaigarh Fort: The Jaigarh Fort is a majestic stronghold built by Sawan Jai Singh II. This almost-intact fort is surrounded by huge battlements and is connected to the Amer Fort (also called 'Amber' Fort), with subterranean passages. Originally built to protect the Amer Fort and the palace within the complex,
Nahargarh Fort : The Indian state of Rajasthan is famous for its royal heritage. Formed by the union of many princely states ruled mainly by Rajputs, Rajasthan has many forts and palaces. Some of these palaces and forts are associated with important historical events as well.
Source : www.jaipur.org.uk