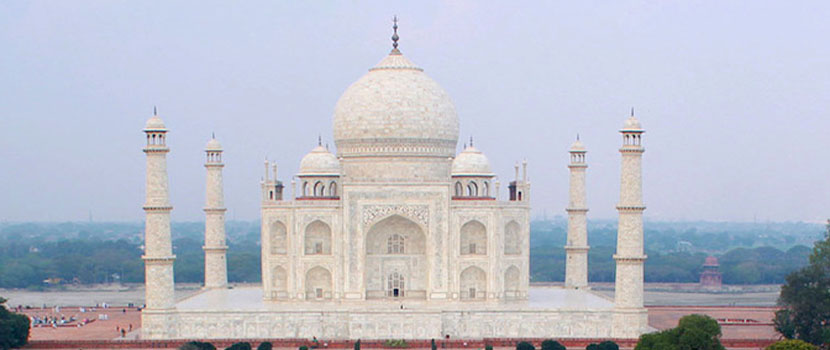 Agra
Agra has a rich historical background, which is amply evident from the numerous historical monuments in and around the city
Agra came to its own when Shahjahan ascended to the throne of Mughal Empire. He marked the zenith of Mughal architecture, when he built the Taj in memory of his beloved wife Mumtaz Mahal. In his later years, Shahjahan shifted his capital to the new city of Shahjahanabad in Delhi and ruled from there.
Places of Tourist Interests:
Taj Mahal : Taj Mahal is regarded as one of the eight wonders of the world, and some Western historians have noted that its architectural beauty has never been surpassed. Taj Mahal (meaning Crown Palace) is a Mausoleum that houses the grave of queen Mumtaz Mahal at the lower chamber. The grave of Shah Jahan was added to it later.
Agra Fort : Agra Fort is a UNESCO World Heritage site located in Agra, India. The fort is also known as Lal Qila, Fort Rouge and Red Fort of Agra. The fort can be more accurately described as a walled palatial city. Agra Fort worked both as a military strategic point as well as the royal residence.
Fatehpur Sikri : Fatehpur Sikri is a fascinating ghost city built in the 16th century; 37 km from Agra Akbar the great, who at 26 years did not have an heir, founded this historic site. Fatehpur Sikri is one of the finest examples of Mughal architectural splendour at its height.
Sikandra : Sikandra is the mausoleum of Akbar. Akbar himself started construction of this beautiful monument. This structure has a perfect blending of Hindu, Christian, Islamic, Buddhist, Jain themes. Sikandra is named after Sikandar lodi, the Delhi ruler who was in power from 1488 to 1517.
Itmad-ud-Daula : Itmad-ud-daula has a special place in the chronicles of both history as well as architecture. This is precisely because Itmad ud Daula is the very first tomb in India that is entirely made out of Marble. This is actually a mausoleum that overlooks the River Yamuna and is a tomb of Mir Ghiyas Beg, a minister in the court of Shah Jahan.
Source : www.agra.nic.in/